Eating Out in Brum
This is a highly personal view of my favourite restaurants in Birmingham, for which I make no apologies. All that I ask is that a restaurant serves good quality and good value food, graciously. Regrettably most do not qualify, these all do:
Best Value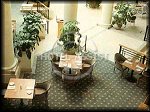 A surprise here, because this has to be the Aria Restaurant at the Hyatt Regency hotel, 2 Bridge Street, B1 2JZ near EuroPython by Broad Street. If you go to the Hyatt between 5.30pm and 7.00pm, any day of the week, and ask for the pre-theatre supper menu, you will get a beautifully-prepared three-course meal with silver service and helpful, friendly staff for £18.50, pay £9.50 more and you get two generous glasses of wine and coffee as well. The menu changes weekly. There's always a veggie option and the chefs are only too pleased to accommodate any other dietary requirements you may have, eg vegan.
There are plenty of other eating places on Broad Street, most of them with three things in common:
they're fashionable
they're mediocre
they're poor value
Sad to say, the latter two points seem to go with the first, wherever you are, not just in Brum. Don't support mediocrity, try the Hyatt instead.
Balti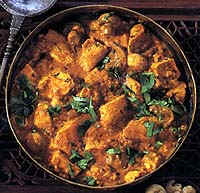 The Balti is an Asian dish which first appeared about 30 years ago roughly simultaneously in Birmingham and Kashmir. Since then it has spread around the country, and become fashionable to the point where most baltis aren't anything like the original.
The balti is a form of curry, cooked and served in a steel wok-like bowl, which should never be scrubbed and develops a unique patina. A balti restaurant will have its own, sometimes jealously-guarded, recipe for sauce, and you order the ingredients you want cooked in it. It will be cooked freshly and delivered steaming hot to your table. Eat it with a nan bread dipped into the balti instead of using cutlery. True balti restaurants can be found in Brum's Balti Triangle, roughly defined by the Pershore, Stratford and Wake Green Roads, Restaurants elsewhere calling themselves baltis often aren't.
My favourite balti restaurant is the Shabab, 163 Ladypool Road, B12 8LQ. Don't be put off by the shabby appearance, its food is superb. I've been going there for nearly 20 years, and have never been disappointed. Favourites are:
Mixed Vegetable Bhaji
Shami Kebab
Balti Meat with Spinach and Black eyed beans
Garlic and Coriander Nan with extra garlic
Tarka Dahl
Like many Muslim restaurants in Brum, the Shabab is unlicensed and you can bring your own drinks. If you forget you can pop over the road to The George pub, bring a pint back, and the landlord will collect the empties.
Indian
Brum has hundreds of Asian restaurants, but they mostly serve up the Anglicised food we've become used to. The only 100 percent genuine Indian restaurant I know of is the Jyoti, 1045 Stratford Road, Hall Green, B28 8AS, 0121 778 5501. You'll need to take a taxi or bus to get there, then you'll be rewarded with some of the purest and simplest flavours you're likely to encounter. The Jyoti is a Gujerati restaurant, vegetarian, run by two brothers front-of-house while their wives do the cooking. It's unusual to see women working in Brum's Asian restaurants, usually they stay at home making the good stuff. At the Jyoti they serve up what they eat at home, don't miss it. Like the Shabab, bring your own drinks.
Note the new address for the Jyoti: it's moved up the road to Hall Green, on the right on the way out of town, by Somerfields. The new place is quite chic, and miraculously the food has survived the move not just unscathed but it's even better. website.
Persian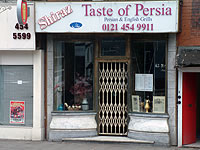 The Shiraz, 167 Hagley Road, B16 8UQ is a short bus ride from EuroPython up Broad Street and the Hagley Road to the Ivy Bush. Its food is lovely and plentiful, and the restaurant is alcohol-free, which means that it does not have a licence and you may not bring your own. It does have a good selection of soft drinks and Iranian durg.
Pub
The Bull at No 1 Price Street, B4 6JU is where we hold PyWm social meets. It serves real ale (OK lager boy, they have the crap stuff as well if you really want it), and rib-sticking honest home-cooked food.
The Black Eagle 16 Factory Road, Hockley leans more towards gastro-pub restaurant than pub and serves nice food in relaxing surroundings.
Moroccan
The Zagora, Fletchers Walk, Paradise Place (under the EuroPython conference venue) is a homely restaurant offering nicely cooked tagines, couscous and paellas etc. Normally it's a quiet and relaxing place, but it brightens on on Friday and Saturday evenings after about 9.30pm when the Zagora's own scrumptious Shiraz does her belly dancing spot.