Big Hearted Brum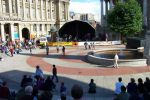 Birmingham is Britain's Second City, the population of the city itself is around 1 million, and of the conurbation around 2.3 million. It is a cosmopolitan city with a rich cultural history derived from its trading and manufacturing heritage.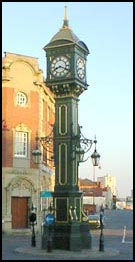 Known as The city of a thousand trades Birmingham was the heart of the Industrial Revolution and much of this heritage remains: in the Jewellery Quarter you can walk into a jeweller's workshop and have a ring made to your specific design, and the historic Gun Quarter specialises in the finest hand-crafted shotguns.
With a tradition of creativity in design and manufacturing, it's not surprising that this has carried over into the arts. Look at the Created in Birmingham blog.
It was in Birmingham that John Baskerville created the beautiful typeface which bears his name. Look here for more information on John Baskerville, his work, his life, and the bizarre story of what happened to him after his death.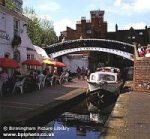 The British canal network was fundamental to trade and manufacturing and it converges on Birmingham. It is reputed that Birmingham has more inland waterways than Venice. Be that as it may, Brum's canals have been redeveloped as a tourist attraction which is centered on Gas Street Basin, barely 5 minutes' walk from EuroPython. Here you can take a guided tour of the central canal system, on a narrow boat of course, or just stroll along the peaceful waterways from bar to bar.
Birmingham offers an ideal location for EuroPython, and offers many attractions for delegates and their families outside the conference itself: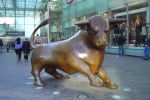 The new Bull Ring shopping centre is a mere 10 minutes walk from EuroPython, and there you'll find shops for every taste. The Bull Ring was a historic market area destroyed in WWII, and this is its second reconstruction. As a reminder of its past, there is a life-sized bull sculpture. Furthermore, the new development has kept the traditional markets, the famous Rag Market sells a huge range of fabrics at fantastic prices.

Thankfully untouched by the bombs, the delightful St Martins-in-the-Bull Ring church nestles besides the new shopping centre and opposite the dramatic Selfridges store. This voluptuous new building has an equally dramatic interior where the fashions seem to be designed for models whose shape is in direct contrast to the store itself.
If you want to get away from the more modern shops, and for a unique memento of your visit to Birmingham, you're certain to find something in The Jewellery Quarter. If you want to win Brownie points with your lady, visit one of the many small jewellers in the Quarter where you can specify your own design and you'll be able to pick up the hand-crafted result before you go home from EuroPython.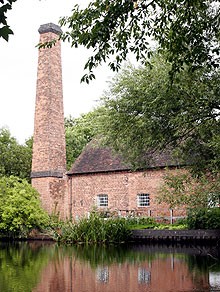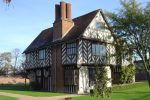 The major Birmingham museum, and art gallery, are immediately adjacent to the EuroPython venue, Birmingham Conservatoire. These are fine institutions, as one would expect. However Brummies are fortunate that the Council maintains rather more unusual museums:
Sarehole Mill, a fine water mill in the suburb of Hall Green and the childhood playground of JRR Tolkien,
and Blakesley Hall, a charming mediaeval manor house in Yardley, located somewhat incongruously in a road of between-war semis.
Millennium Point which has hands-on exhibits for kids, an Imax Cinema, and the contents of the old Birmingham Science Museum, including the world's oldest working steam engine.
Birmingham Museum and Art Gallery is by the clock on Chamberlain Square, next to Birmingham Conservatoire and EuroPython. It has a fine pre-Raphaelite collection and many other treasures.
A short walk along Broad Street from EuroPython brings us to the Ikon Gallery, an intimate gallery devoted to modern art and media. Bonus: it has a really nice coffee shop.
A little further afield, on the campus of Birmingham University (you'll need to take a bus ride) is the Barber Institute of Fine Arts, a delightful gallery much appreciated by those in the know.

No summary of Birmingham would be complete without mentioning one of its most famous products: Cadbury's chocolate. Cadbury have a visitor centre Cadbury World, where you can:
See how chocolate is made
Learn about the history of chocolate
Buy chocolate
Eat chocolate
You'd be wise to plan and book your visit in advance.

A short pleasant walk along the canal towpath from EuroPython will bring you to the National Sea Life Centre. This is quite spectacular and a tribute to the designers' skills in creating such a facility in the middle of land locked Birmingham. Learn more about it at Pete Ashton's Blog.
Communications
Birmingham is at the very heart of England, so naturally it has excellent communications. The city is at the centre of the nation's road and rail networks, and has a modern international airport with links to major centres.